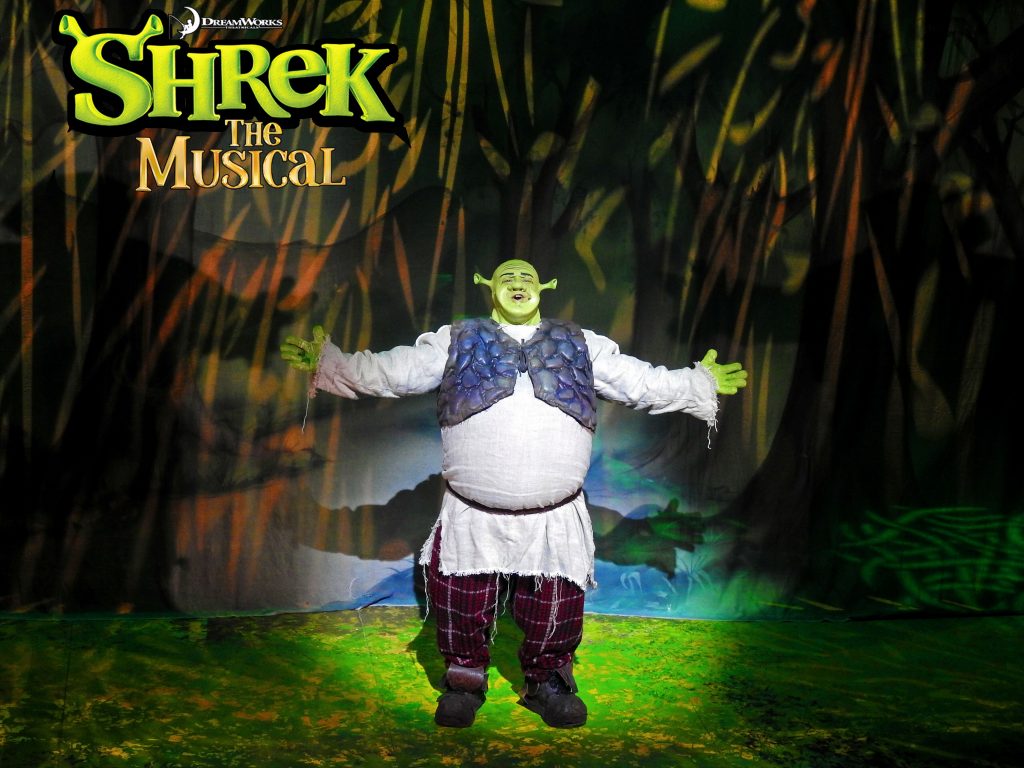 AAOC's Year in Review
On what should have been our opening night for Sunshine on Leith, we thought it was the perfect time for a review of the past year! We had a fantastic 2019-2020 season rehearsing and performing Shrek the Musical. We had absolutely packed audiences every night, and what brilliant audiences they were! We all love performing, and the electric atmosphere brought by our audiences only makes it better. Our closing night audiences even joined in with us all as we celebrated Shrek's surprise on-stage proposal to Princess Fiona! We were pleased to again offer a BSL-signed performance and an audio-described performance, and were also delighted that bucket collections at some of our performances were able to raise £819.98 for the Ayrshire Hospice, whom we are proud to support.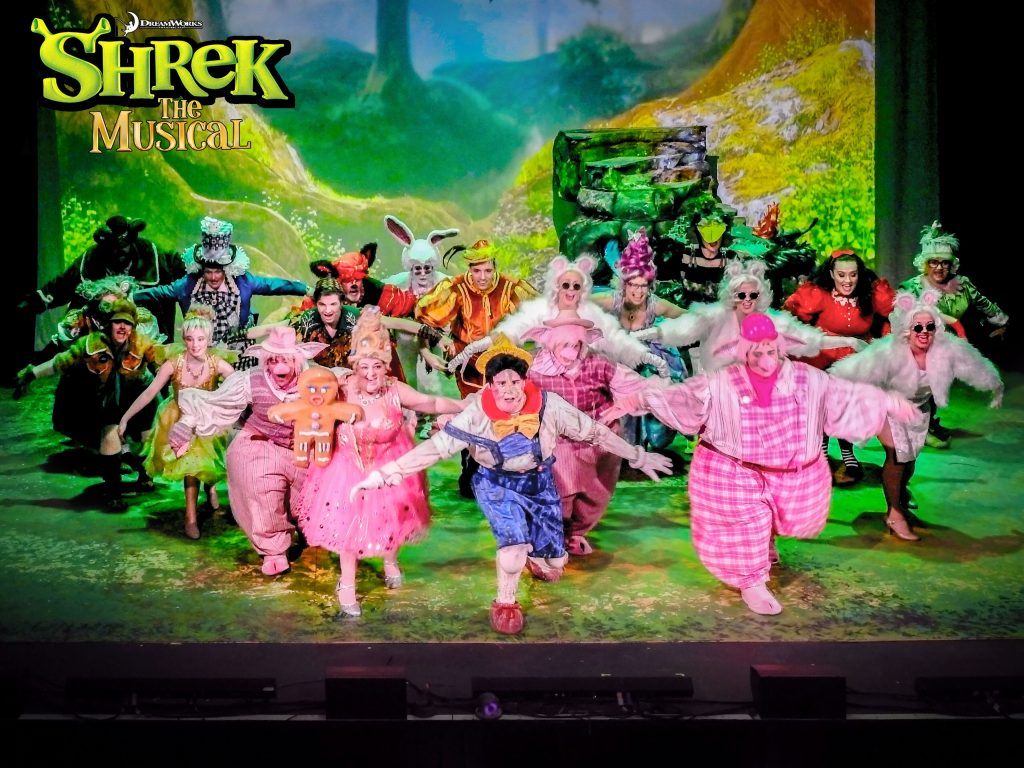 Every year we await our highly-anticipated NODA review, and we're so excited to be able to share it with you now. Our NODA District 4 representative, Craig Inglis, always writes such detailed reviews, and we think he had almost as much fun as we did!
"I was very excited to see how AAOC would present the complex production of Shrek in their home theatre, The Gaiety in Ayr, which has a smaller and challenging stage space. They managed this with ease, although I know this will not have been as easy as it seemed, and achieved by the backstage crews hard work, sweat and (happy) tears. It was very impressive how the production team used visual backdrop projections and minimal set pieces to bring the magic of this show to life, to a fantastic result. The characterisation, musical numbers and choreography were all fantastically executed by every member of the cast and it was clear to see everyone was having the best time. This energy spread through the auditorium which allowed the audience to feel part of the story, a benefit of the more intimate theatre space. When the audience are cheering from the first voiceover, you know you are onto a winner. The characterisation from every cast member was well executed and they handled the challenge of transferring the movements from the characters in the animated film to live theatre seamlessly. Leading the show in the title character role of Shrek was Mikey McCabe. Mikey's strong physicality, clear accent and powerful vocals really set the tone of the character from the start and he balanced the softer, warm side of the character perfectly. This was highlighted in his number "Who I'd Be", which was just lovely. Shrek's sidekick who we meet as the show progresses, is his 'loyal noble steed' Donkey. Paul Hume showed flawless comedy timing, fascial expressions and energetic physicality in his role which was infectious and had the audience enthralled. I was tired from just watching him perform "Don't Let Me Go"! Adding more comedy to the show and completing the leading trio of characters was Ciara Brady as Princess Fiona. Ciara's characterisation was fantastic. She confidently balanced the princess and ogre sides of Fiona character, showed off her beautiful voice, and used her comic timing to produce the strongminded princess the audience fell for. Mikey, Ciara and Paul worked outstandingly well together with a natural interaction on stage. Supporting Ciara in the role of Fiona were Darcie Magee and Nancy Vollam (Young Fiona), and Beth Donaldson and Kiera Capstick (Teen Fiona). The talent in their performances was very impressive. The "baddie", a word I use loosely as you just can't help but love him, of the show Lord Farquaad was captured brilliantly by Greg Philp. Greg gave a well-rounded performance, mastering the use of the costume and character's trademark knee walking to produce hilarity in all of his scenes. In particular his interaction with Shrek on their first meeting was "perfect" (I can still hear Greg's voice saying that line). A standout vocal performance was Lynne Kenmuir as Dragon. It was simply outstanding to see Lynne perform the big belt numbers in an effortless style. The puppetry of Dragon was cleverly done and allowed Lynne to be on stage with the operators as dragon flew across the stage. It meant her attitude and acting was aiding the main puppetry and brought another dynamic to the scenes. The main principal line up was supported by a strong and talented ensemble of Fairy-tale characters who cleverly jumped between roles as the show progressed. All brought individual characterisation to their roles and it was lovely to see a variety of ages in the ensemble encompassing the full range of club members. I couldn't list everyone in this report, and wouldn't want to miss anyone out, so I would say a huge congratulations to everyone for their energy and enthusiasm. Behind the scenes the wardrobe and make-up team should be commended for fantastic input. Congrats to everyone at AAOC on a brilliant show once again. A great one to add to your repertoire. I would also like to commend the club on their programme design which was very endearing and fitted with the storybook theme of the show exceptionally well. Finally I would like to add extra congratulations to Mikey and Ciara, Shrek and Fiona, on their real-life engagement as Mikey took to bended knee on the last night of the show run – Go You Two!"
We'd like to extend a heartfelt thank you to Craig for his amazing review, and indeed to everyone on and off stage who made our production possible! This of course includes our wonderful audiences. Shrek and Fiona loved meeting so many audience members at our meet-and-greets after the performances, and we all appreciated the kind comments and feedback we received both in person and on social media. Here are some of our favourites:
"Without question an outstanding performance by all involved. Singing quality – off the scale. Production – awesome. Cast – out of this world. I have never witnessed an 'amateur' production of such quality. Just blew me away. Brilliant show. Hard working crew and fantastic cast. Well worth a view. Standing ovation at end said it all. Well done all."
"Just returned home from the Gaiety after watching tonight's performance of Shrek – what a show! Congratulations to everyone involved including cast, crew and production team on what was an amazing show. Tremendous singing from principals and ensemble, stunning costumes and fabulous set. A great night's entertainment. The best amateur show I've seen in years – well done everyone"
"Absolutely gobsmacked! The best show I have ever seen, ever!! You nailed it. I haven't laughed so much in ages. What talent AAOC. The audience loved you. A very professional and outstanding production."
We were also excited to read our news and reviews in the Ayrshire Post!
News: https://www.dailyrecord.co.uk/ayrshire/shrek-proposes-stage—21632371
Review: https://www.dailyrecord.co.uk/ayrshire/shrek-review-ayr-amateur-opera-21654450?fbclid=IwAR2iu02455c1gIOTvo7J9I9F2M9paM5fyaOh9Ge2vmRLek3OnnIx2_zzDqs
---
Events
Show week always brings a raft of after-show parties. On opening night, we partied in the Gaiety Studio, followed by a trip to T-Bar following our Tuesday performance. After our Wednesday performance, we enjoyed a fantastic meal at the Rupee Room. On Thursday night, we had our party at the Mercure, and after Friday's performance we visited the West Kirk for drinks and snacks. On Saturday, two-show day, we recharged with a delicious buffet in the Gaiety Studio provided by Ayrshire Catering, and after our closing performance, it was off to Lord Farquaad's house to sing and dance the night away! Stage Manager Lynne and her husband Stephen also hosted a brilliant "week-after-the-show" party the following weekend to keep us topped up on social events.
We always enjoy supporting our fellow musical theatre companies throughout the year. We thoroughly enjoyed LMS' production of Footloose and APOS' production of Oliver! For many of us the last theatrical productions we saw before Lockdown were KAOS' production of 9 to 5 the Musical and PMOS' production of Shrek the Musical, both at the start of March 2020.
---
Lockdown
Like many people, we were missing the opportunities for social events and looking for ways to keep busy during lockdown. At Easter, we had lots of fun with an egg decorating challenge. We've also been having regular quizzes on Zoom, hosted by different members every time. We've had lots of innovative musical theatre rounds and challenges within these quizzes, such as the Props Round, the Quick Change Challenge, the Showmance Round and Put On Your Dancing Shoes! We also had a brilliant musical theatre themed Bingo Beats night hosted by Lynsey. Many of our members and friends of AAOC have recorded videos of themselves performing which you can view on our Facebook page. We also created a Lockdown Medley video through the hard work of our Shrek Musical Director, Grant, and our Secretary, Sara.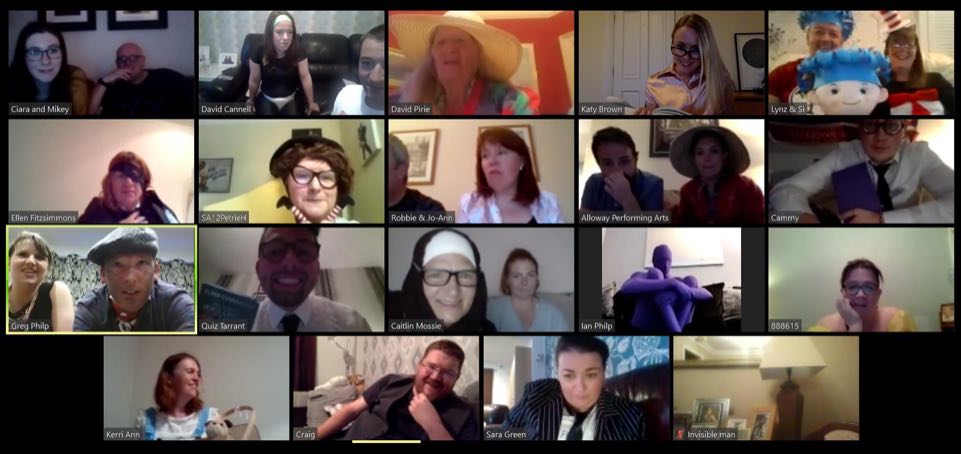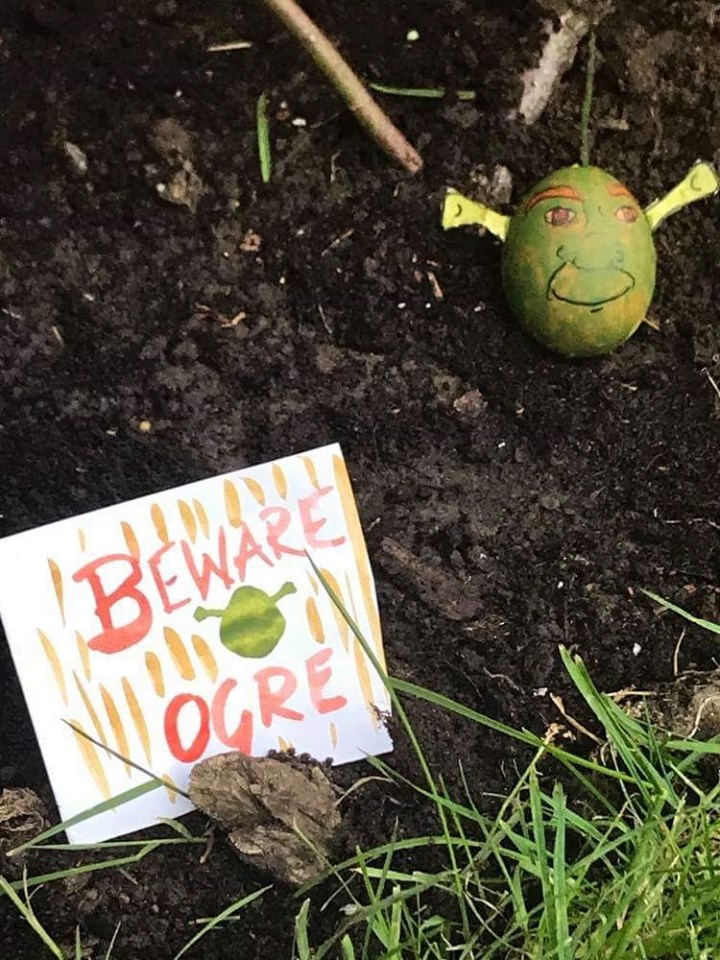 At Hallowe'en we had a range of activities planned by the lovely Lynsey over the whole weekend: a socially distanced car treasure hunt, pumpkin carving competition, costume competition, and an online spooky Bingo Beats. We also had a virtual race night where we dressed up in full Ascot finery!
We've created several more videos since our Lockdown Medley to celebrate various holidays, and at Christmas we presented two virtual concerts: A Merry Little Christmas. We are extremely grateful to everyone who worked so hard to create them, and to our viewers who helped us to beat our fundraising goal. We were also delighted to be part of the Ayrshire Hospice's virtual Light up a Life concert.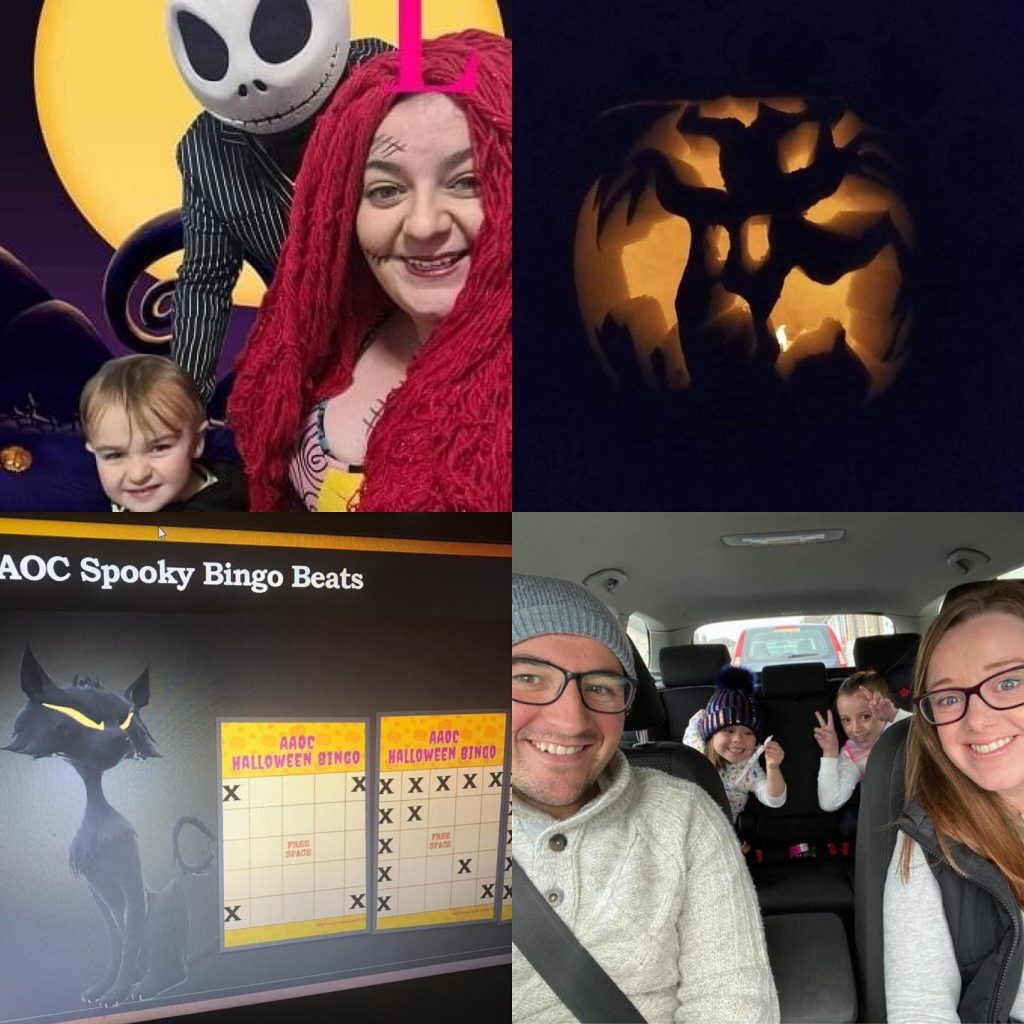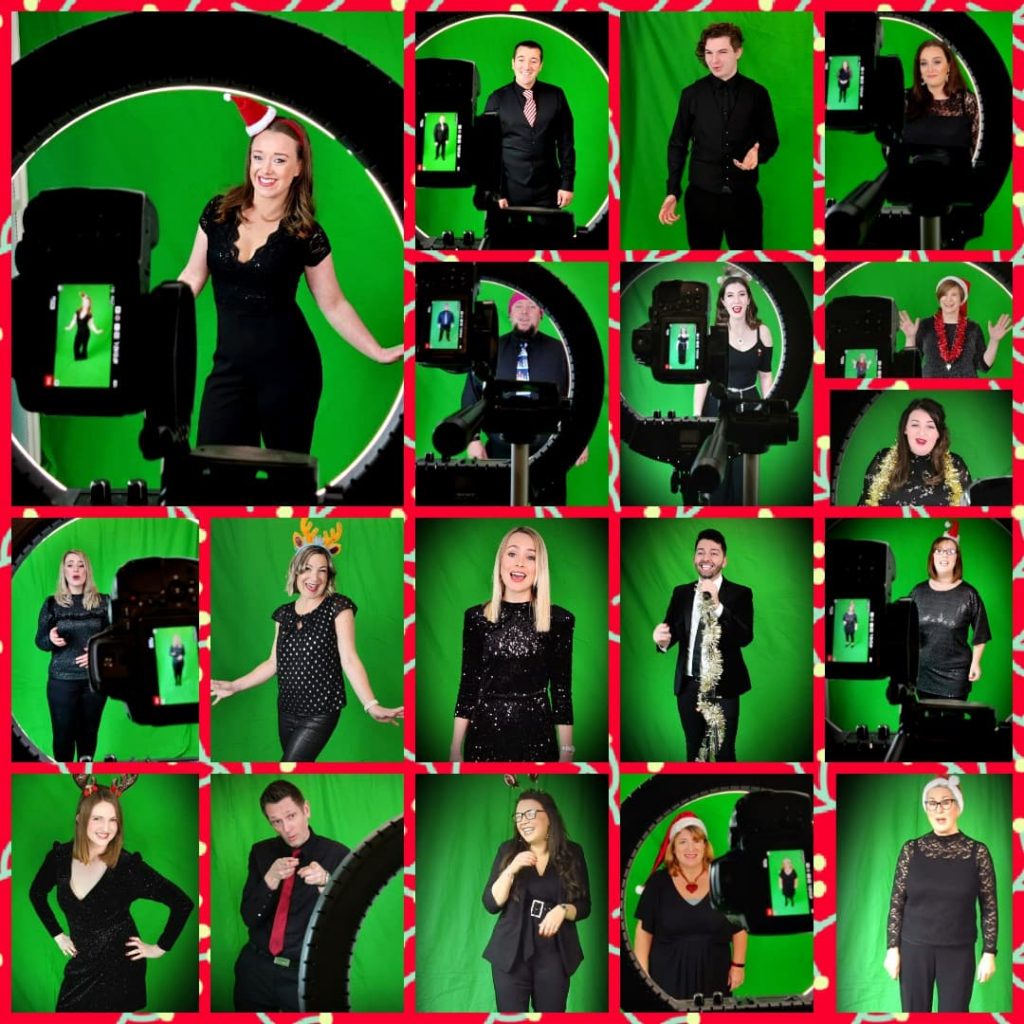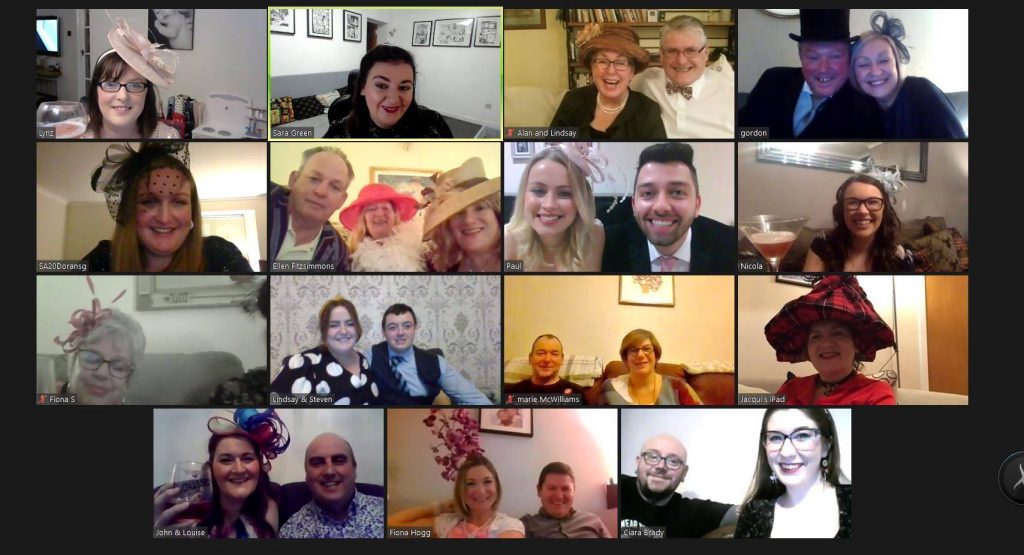 The Gaiety Theatre have also been working to keep busy during lockdown, and to find ways to safely reopen when the time comes. You can visit https://lockdown.thegaiety.co.uk/ to find out more, and to participate in the huge variety of online events and workshops on offer. Two of our members are participating in the Gaiety's upcoming virtual production of Meet Jan Black- look out for more information on our social media pages soon!
---
2020 AGM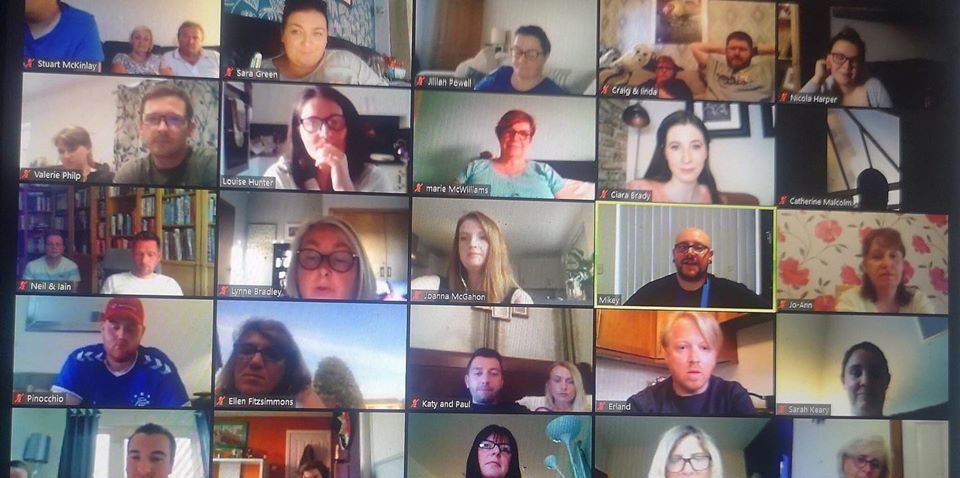 In May 2020, we also hosted our first ever virtual AGM. We were delighted to have so many virtual attendees, allowing us to begin our new season. 2019-2020 President Ciara Brady rounded up the year, and handed over to our 2020-2021 President, Mikey McCabe. We were also pleased to recognise the Long Service to NODA of Joanna McGahon and Helen Petrie. We began our 2020-2021 season by welcoming our new Executive Committee: President Mikey McCabe, Vice President and Treasurer Nicola Harper, Secretary Sara Green, Immediate Past President Ciara Brady, David Cannell, Gillian Dorans, Ellen Fitzsimmons, Lynsey Kerr, Iain McLellan and Lindsay McNab. We couldn't take our now-customary Committee photo at the end, so for now we're making do with a Committee screenshot!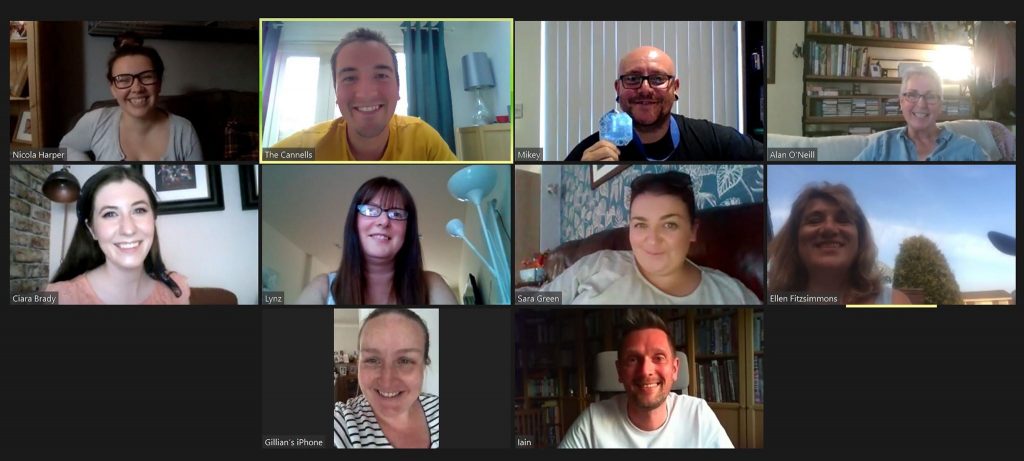 ---
Sunshine on Leith
It became clear to us during lockdown that we would not be able to perform Sunshine on Leith at our intended time of February 2021. We initially postponed the production to be performed in May 2021, however, as the situation progressed it became obvious that this was no longer a viable option. It is now our hope that we will be able to perform this exciting show in February 2022, and we hope you'll come along and enjoy it with us!