We've recently had our 2019 AGM, which means it's time for a review of the year, and an update on what's happening in AAOC. We had an amazing time in the Gaiety Theatre performing Half a Sixpence, and would like to extend a heartfelt "thank you" to everyone who came to "Pick Out a Simple Tune" with us. The atmosphere in the theatre was electric, and it really adds to the excitement on stage when our audiences are having just as much fun as we are! We were delighted that our audiences raised £1076.45 for the Ayrshire Hospice through bucket collections after performances.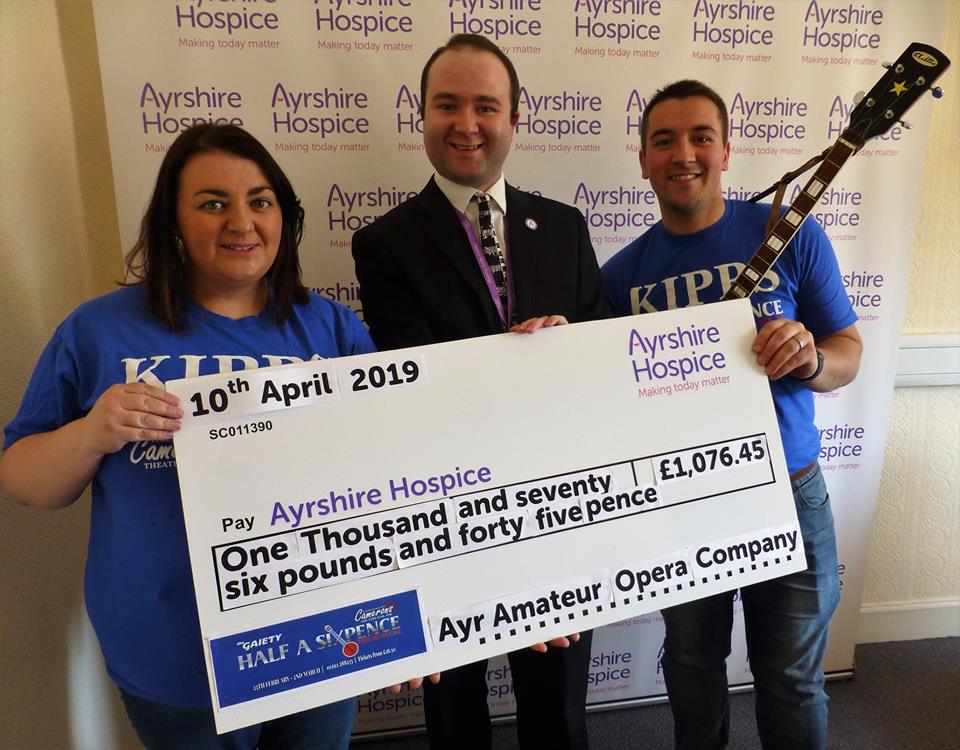 Every year we look forward to receiving our official Noda Show Report, and we could not be happier to be sharing it with you now! A huge thank you to our Noda District 4 Representative, Craig Inglis. "Always excited to see a show new to me, this was the first time I had seen Half A Sixpence, although realised very quickly that I knew more of the songs that I thought. This show is almost a one man show, following the story of Arthur Kipps as he dumps his long-standing girlfriend in favour of social climbing, dumps his new fiancé in favour of returning to his roots, walks out on his job when he comes into money and forgets about his steadfast friends. Now with all these contrasting, sometimes dubious, situations and emotions, along with being the central character, Kipps needs to maintain and establish a great rapport with the audience which is what David Cannell achieved with great success. He balanced a naivety in the role with a likeable brightness. David dominated the show throughout in a captivating performance showcasing his acting, singing and dancing skills. His shop buddies were Sid, Buggins and Pierce, respectively played by Michael McCabe, Bryan Slavin and Andrew Martin who gave strong performances and produced effortlessly contrasting characters throughout. Kipps original and final love interest, Ann Pornick, was given a wonderful and strong portrayal by Lynne Kenmuir. Lynne balanced the warm and likable character in Act One with the heartier and uptight girl we meet in Act Two when she encounters Kipps at some higher social gatherings where she is a servant. In these scenes, which establish the distance threatening to separate them due to differing social status, were excellently performed by David and Lynne. The high society in Kipps life comes in the form of the Walsingham's, with whom Kipps becomes entangled until he realises the error of his ways and also learns that Young Walsingham has embezzled his money. Helen Walsingham who is very much the milder member of this family, encouraged by the selfish needs of her mother and brother, was superbly played by Ciara Brady. Ciara's character was kind, gentle, elegant, and with an innocence that meant in the end when Kipps leaves her I was nearly in tears feeling so sorry for her. Ciara's impressive singing voice was beautiful and a joy to listen to throughout the show. Although professing her love for Kipps, their coupling is doomed to failure as a result of the misgivings of her aloof mother, and opportunity grasping brother. These were three contrasting performances and Carol Ann McKinlay and Neil Heath played the "baddies" of the piece fantastically well with relish. The other character that tends to dominate in Kipps' life is his actor manager Chitterlow who is the channel for Kipps second fortune. Stuart McKinlay was perfectly cast and gave a larger than life and very theatrical portrayal. He and David complimented each other perfectly and were very entertaining to watch. The shop girls, Victoria, Flo and Kate were nicely portrayed by Sara Green, Wendy Cannell, and Diane Woodburn. The girls, like the boys, gave individual characterisations very well and brought energy and merriment to the story. The rest of the cast was made up of an enthusiastic ensemble and supporting character performances including Joshua Good as Young Kipps and Lemoni Dempster as Young Ann. Huge congratulations to the crew and production team working behind the scenes. The set was impressive and served all scenes well and along with carefully used pieces of furniture and props served the plot perfectly and ensured a swift progression from scene to scene so that pace was never compromised. Within the stationary surrounding set the choreography looked spotless, tidy and well drilled which was backed up with tremendous and rousing ensemble and principal singing from start to finish. The costumes were effective, as was the lighting so the visual side added to the overall marvellous achievement this show was for the club. I would also like to personally thank the committee for being the first club in Region 4 to list a diary of upcoming shows in their programme, something which was agreed at the District 4 meeting in January. It was lovely to see the supportive community in District 4 grow and was very much appreciated."
We've also loved reading our audiences' comments- we always say that they help to chase away the "post-show blues!" Here are some of our favourites:
"Another brilliant night - I came away thoroughly uplifted and buzzin. How you manage to keep up the standard I'll never know! Superb"
"I saw the show 4 times and it just got better and better. Well done- I can't get those songs out of my head."
"An amazing show! Massive congratulations to the production team, all the cast, the band and backstage crew. Fantastic! Looking forward to next year already. Half a Sixpence will take some beating!"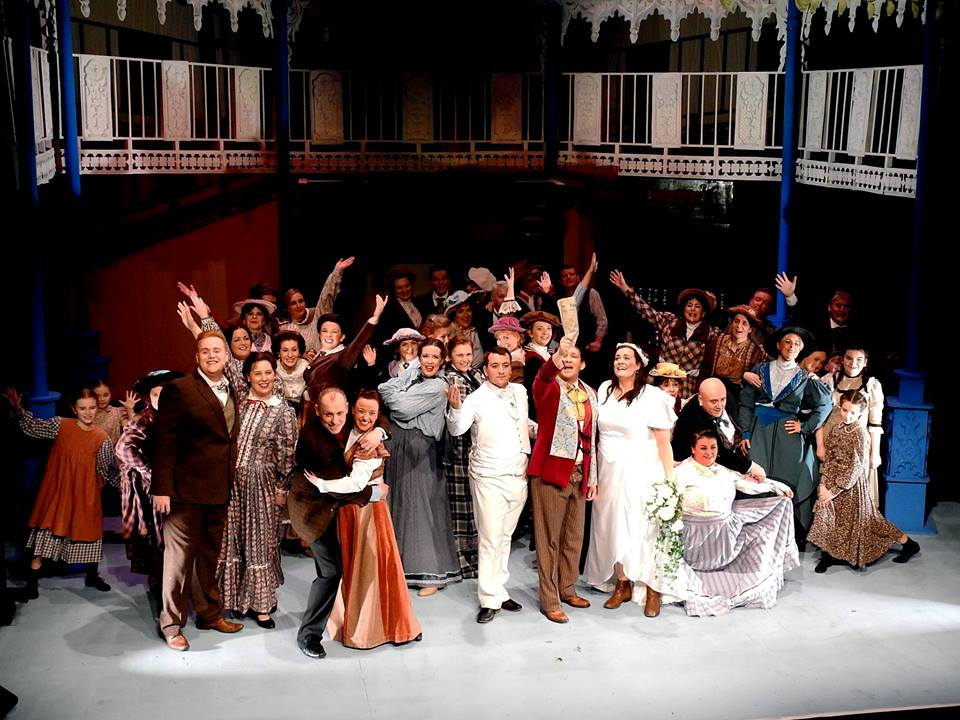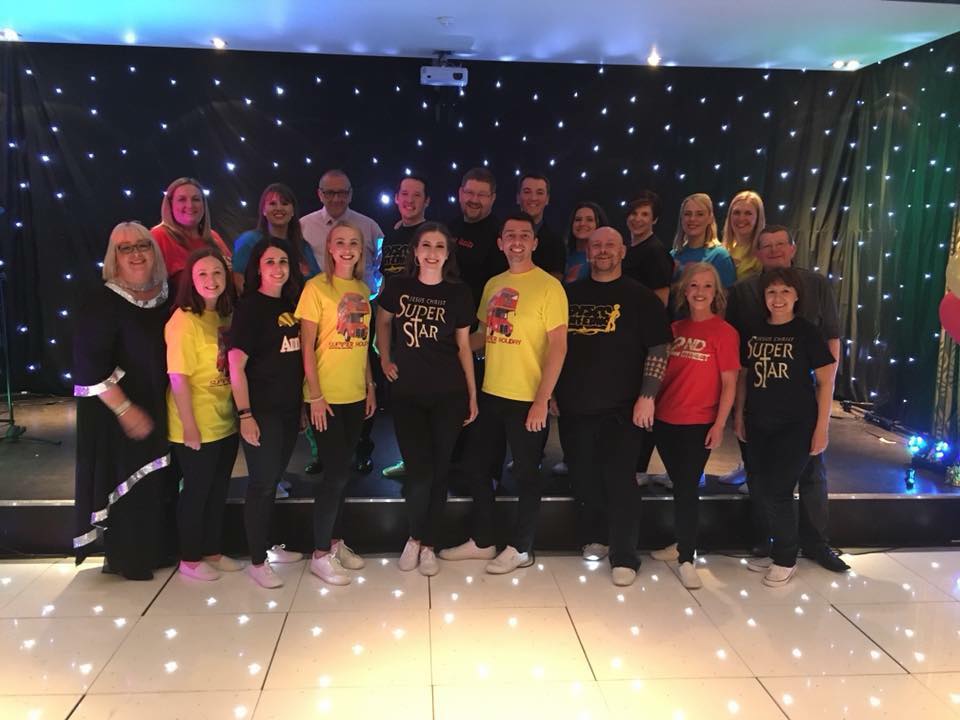 Every year, as well as rehearsing up to four times a week in the lead up to show week, we also have a packed social calendar! This year, our Social Committee and Fundraising Committee teamed up to form our fantastic Events Committee. They have put in a power of work to keep us busy, and help us raise the money we need to keep performing! After Summer Holiday in 2018, we were straight into rehearsals for our Cabaret at the Carlton. The night was a huge success, with songs from musicals and movies alike. In June 2018 we enjoyed a lovely meal at The Fox and the Willow, and a welcome chance to catch up with friends. In July, our Family Fun Day provided lots of fun in the sun, with bouncy castles, traditional fairground games, paddling pools and lots of sweets to keep the energy levels up! August brought our Ladies' Afternoon Tea, and our ladies brought together an excellent spread as always. August also saw the start of our rehearsal period, and we had a Movie Night where we watched the original 1967 movie of Half a Sixpence, starring Tommy Steele.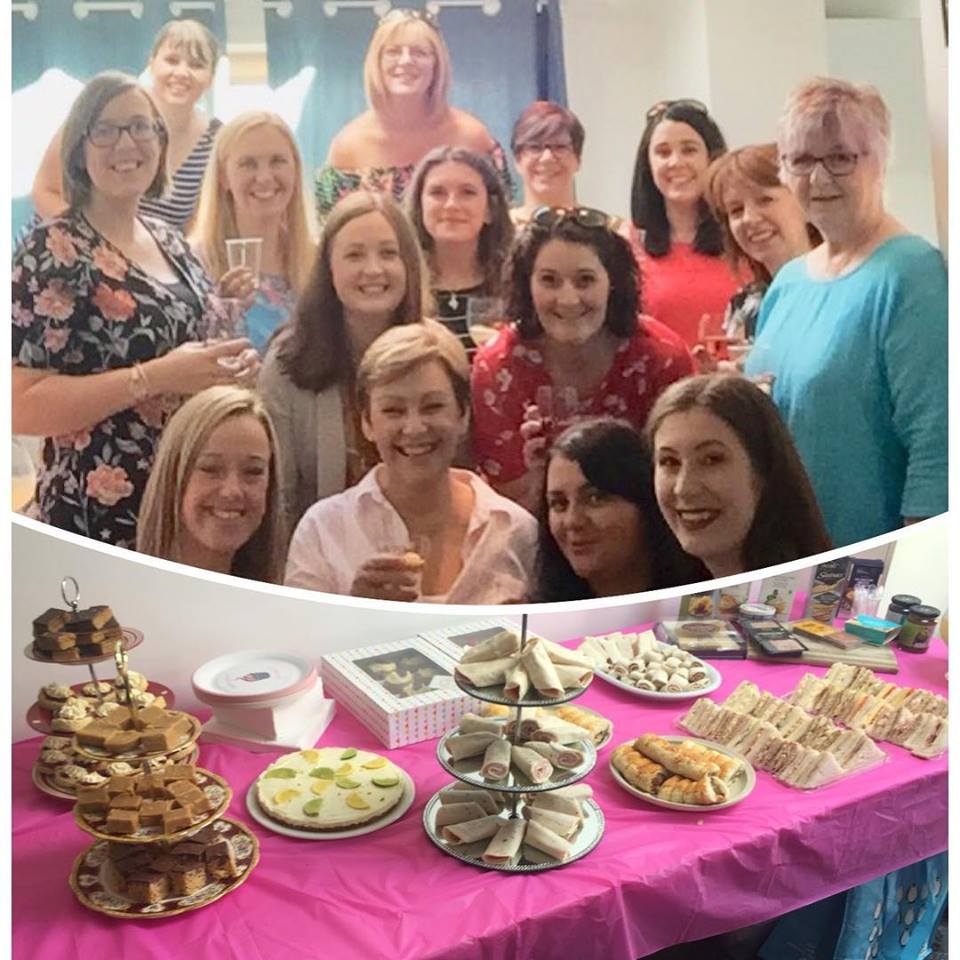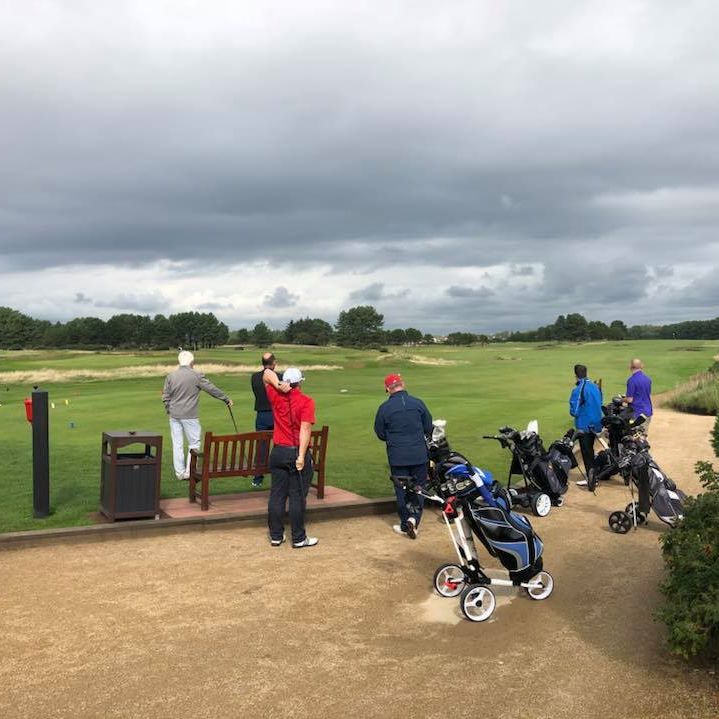 In September, we attended Ayrshire Philharmonic Opera Society's race night in Prestwick, and also held our Men's Golf Day. In October, we had fun at Loudoun Musical Society's bright and brilliant production of Joseph and the Amazing Technicolor Dreamcoat. We also held our own Race Night which helped us greatly in our fundraising efforts. We also attended Ayrshire Philharmonic Opera Society's Autumn Concert, featuring lots of songs from our favourite musicals. 2019 President and Vice President David and Ciara attended the Noda Scotland AGM and Conference at Peebles Hydro to find out more about what's new in the world of amateur theatre! In November, some of our members volunteered at Troon Round Table's Firework Display. We also attended Ayrshire Philharmonic Opera Society's production of Betty Blue Eyes- this was a new show for many of us, and we were not disappointed, as APOS put on a funny, fabulous and charming performance. We also held a Quiz-i-oke where our minds and voices were tested, as well as our ability to sing other people's karaoke song choices!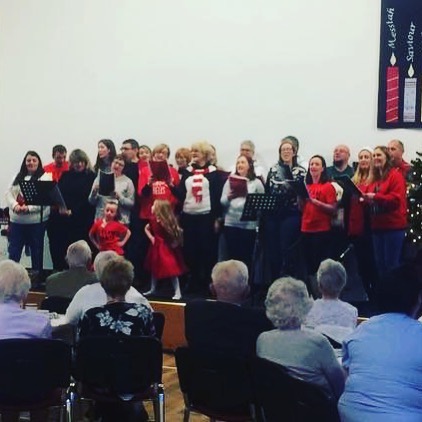 The Christmas period is always a busy one, and this year we kicked it off on the 1st of December performing at Ayr Baptist Church's Senior Citizens' Christmas Lunch. We also enjoyed performing as part of the soul choir with Glasgow's soul band Counselled Out for their farewell performance at the Palace Theatre in Kilmarnock. We had a blast at our various carol singing events throughout December in Ayr Central and Tesco, and it was fantastic this year to also be joined by our kids cast! The final rehearsal of 2018 was Christmas Jumper Night, where we finished early for post-rehearsal drinks at our sponsor, Camerons. In January, we had our Burns Supper at the Savoy Park Hotel, where we enjoyed fantastic food and excellent entertainment. In February, some of the cast performed in Troon for the Ayrshire Hospice's top supporters, providing songs from Half a Sixpence as well as some of our other favourite shows.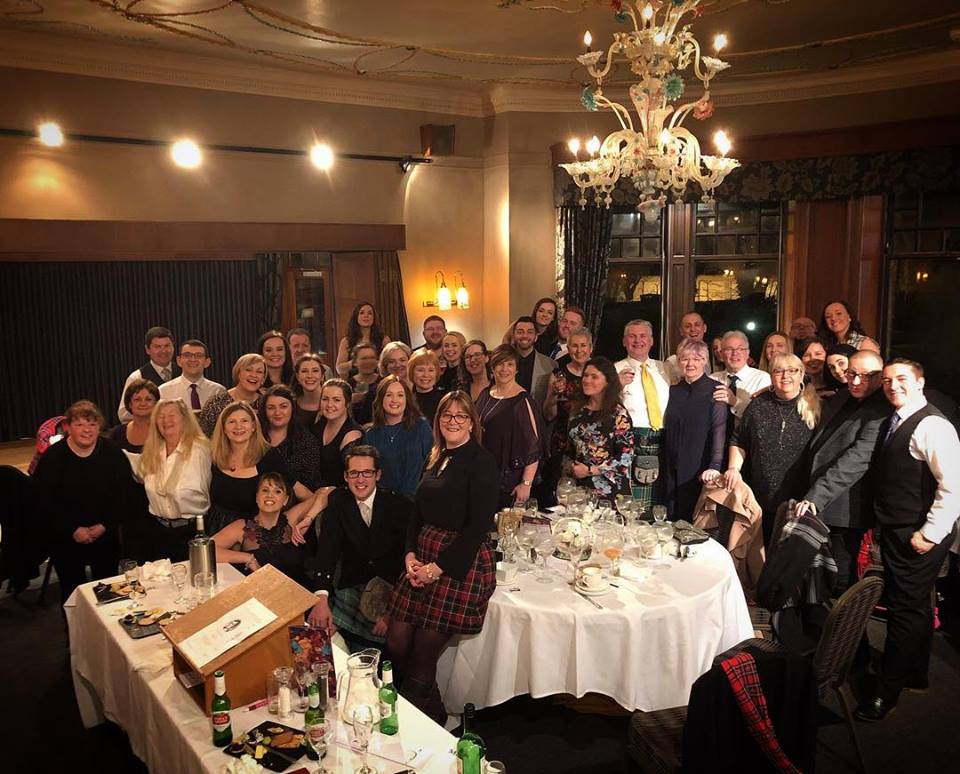 Show Week itself always brings a vast array of after-show parties, and this year was no different! After opening night, we partied in the Gaiety Studio, and on Tuesday night we took the party to our sponsor, Camerons. On Wednesday we had a brilliant late-night meal at The Rupee Room, and on Thursday we had karaoke and danced the night away at the Mercure, then Friday night took us back to Camerons! We had a lovely Matinee Tea at Arthur Street Kitchen, and then had an amazing final party at "Lady Punnet's Musical Evening!" In March, we had a "loverly" evening at Kilmarnock Amateur Operatic Society's excellent production of a classic: My Fair Lady. We also had a great time performing at St Cuthbert Golf Club Lady Captain and AAOC Wardrobe Mistress Catherine's Cheese and Wine Night. We also enjoyed Ayr Fort Players' clever and mysterious production of Murder on the Nile. In May we had a night of whodunnit and hilarity at Ayrshire Philharmonic Opera Society's murder mystery, The Crimson Queen. We were also proud to support The 10:10 Trust, with many of our members attending and performing at their fundraiser dinner. It's been a busy year of events, and we can't wait to see what we'll get up to over the next year!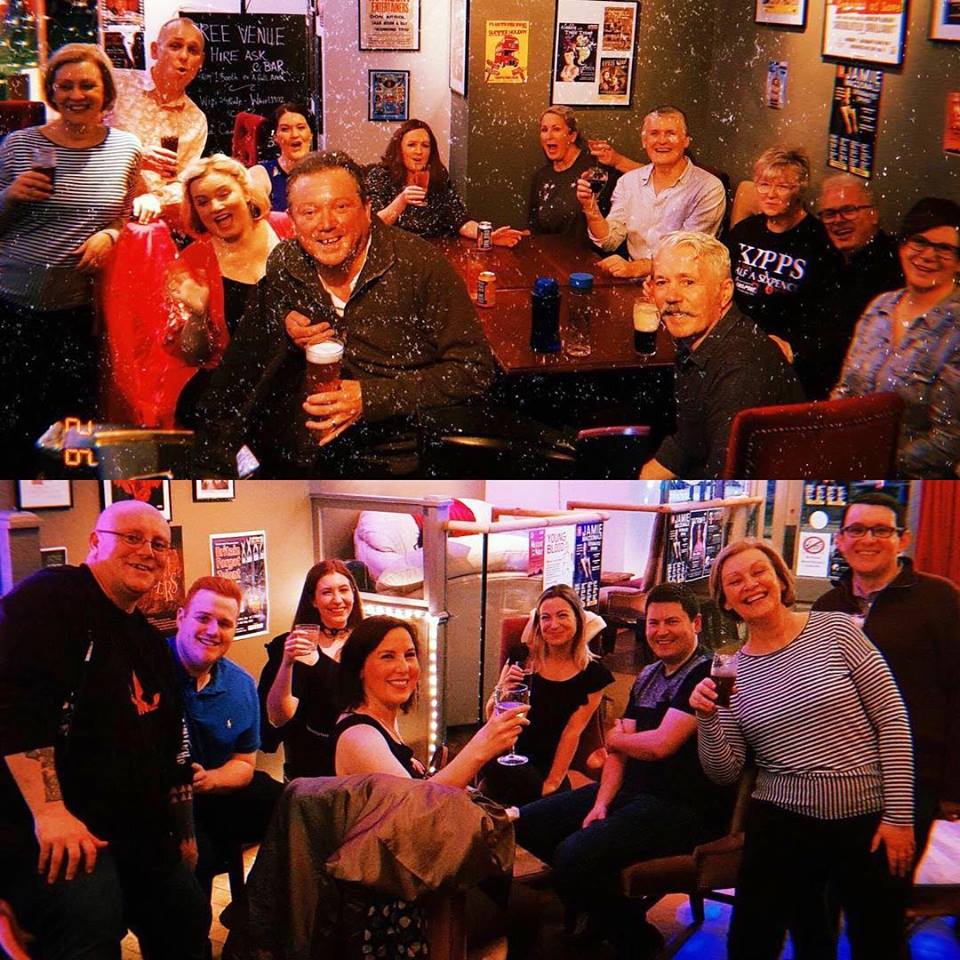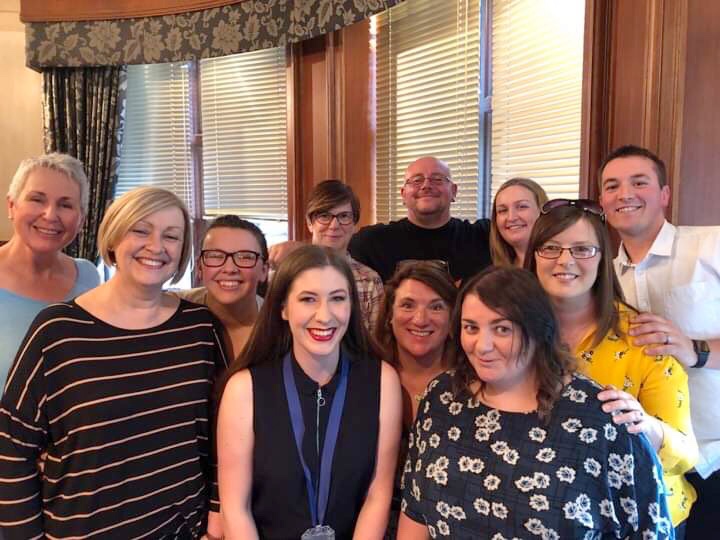 On the 23rd of May, we held our 2019 AGM, and this year was a busy one! We welcomed our 2019/2020 Committee: President Ciara Brady, Vice President Mikey McCabe, Immediate Past President David Cannell, Secretary Sara Green, Treasurer Nicola McKinlay, Gillian Dorans, Ellen Fitzsimmons, Lynsey Kerr, Carol Ann McKinlay, Lindsay McNab and Marie McWilliams. We were delighted to make Rosetta Pirie an Honorary Life Member of AAOC, in recognition of her years of continuing service to the Company both on and off stage. We were also pleased to instate Gordon McKinlay as an Honorary Vice President. Gordon has contributed to the Company in a vast array of ways in his time as a member so far, and we're sure his experience and advice will be greatly appreciated for years to come. Our 2019/2020 Honorary President Anne Brodie presented Noda Long Service Awards to no less than 7 members! Sarah Keary - 10 years David Cannell - 15 years Mikey McCabe - 15 years Wendy Cannell - 20 years Lynsey Kerr - 25 years Elizabeth Veitch - 25 years Janice McKellar - 30 years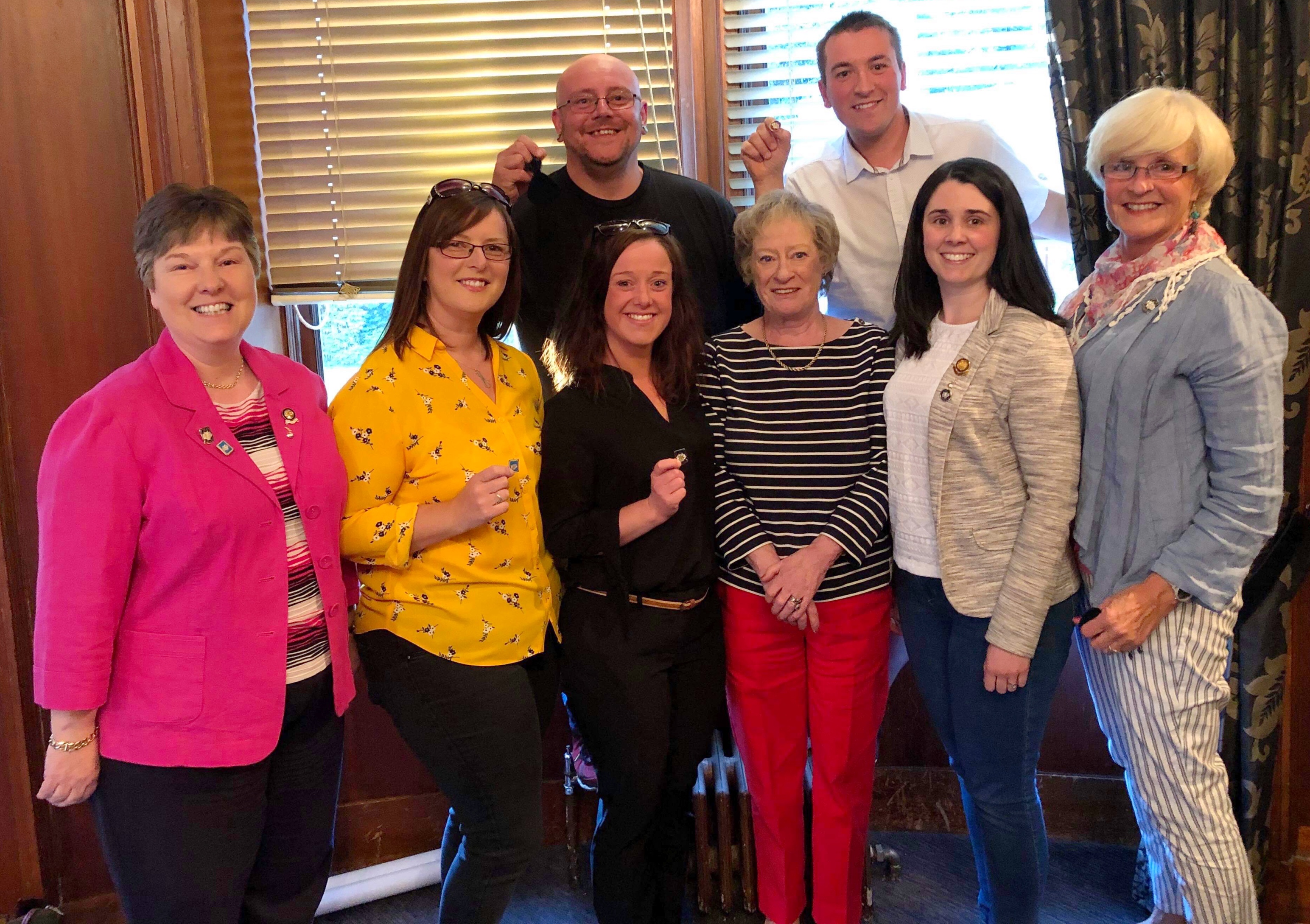 After a very successful year rehearsing and performing Half a Sixpence, our AGM means that we have now entered our 2019/2020 session, and after summer will begin rehearsing for our production of Shrek the Musical! The show is based on the DreamWorks Animation Motion Picture, and featuring songs such as Who I'd Be, I Know it's Today and I'm a Believer! We can't wait to start rehearsing, and we hope you'll join us next year in our "Big Bright Beautiful World" to "Let Your Freak Flag Fly!"